Promised Wife by Paddy Fordham Wainburranga

AUD 2500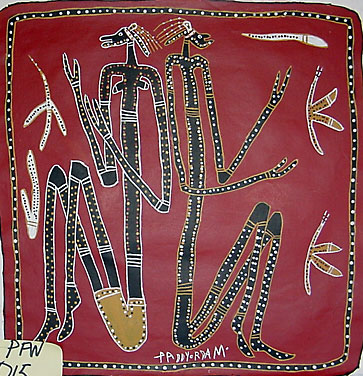 Dimensions

65 cm x 68 cm

Medium

Acrylic on canvas

Code

PFW015
Married Law
Balang and Narditjan are the skin names of the married couple. In his Married Law paintings, Paddy depicts a tradition when aboriginal people make a life together. They are assured of their mortal lives as well as there spiritual lives. Sometimes in his paintings there is a dragonfly or butterfly which are totems and are symbolic to life after death. Aboriginals in Arnhem Land believe in reincarnation. Paddy says even insects have a biggest history, language, skin group, and culture.
---
Other Works by Paddy Fordham Wainburranga
---
© 21 First Street 2000 - 2023
All images on the 21 First Street website are the property of the Artist and 21 First Street.
Please contact us if you would like to use any images.